Replacement Exterior Doors in the Twin Cities Area
Did you know that due to drafts, about 15% of the heat in your home disappears right out of your exterior doors? Entry doors that aren't energy efficient are the top heat wasters, followed by drafty windows, which suck about 10% of the heat out. That means about one-fourth of your heating bill goes toward heating the outside! But when you replace those old heat-wasters with energy-efficient doors and windows, you can keep that heat indoors and cut your utility bill.
As green remodelers here at Quarve Contracting, we're very concerned about helping our customers cut down on energy use, especially waste. In addition to quality energy-efficient windows, we also install beautiful exterior entry and storm doors that can help beautify your home while saving energy. And the savings get even better because installing a new entry door is one of the best projects you can do in terms of return on investment for the value it adds to your home.
Licensed and Insured in the state of Minnesota
No-Obligation Inspections
Locally Owned & Operated
Insurance Claims Experts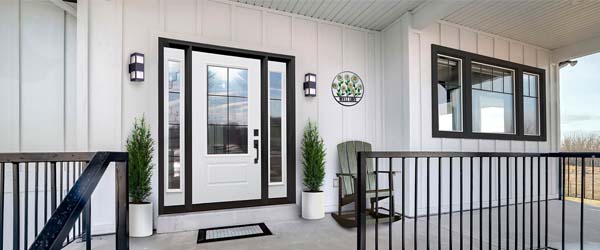 Mastercraft® Offers an Extensive Selection of Entry & Patio Doors
We also install Mastercraft® doors from Midwest Manufacturing. These EnergyStar® rated doors have an industry-leading limited lifetime warranty and are available in three different materials:
Mastercraft Steel Doors:

Available in unfinished or prefinished, these doors are manufactured with durable 24 gauge steel over a foam core for exceptional energy efficiency.

Fiberglass Doors:

Available in smooth and either unfinished or prefinished wood grain.

Oak-N-Steel Doors:

These entry doors provide the best of both worlds – the durability and low maintenance of a steel exterior with the beauty of an oak interior
Add Extra Security, Protection, and Insulation with a Larson Storm Door
Larson is the top-selling storm door in America, and with good reason. These doors provide extra protection and security for your home without sacrificing beauty. A storm door is particularly important if you've got a genuine wood exterior door since it will protect it from weather damage.
Larson storm doors are available in a variety of colors, and you can choose from full or partial glass. Some models also have retractable screens, and there is even an option to order a built-in pet access door. You've made an investment in your entry doors, and you can protect that investment beautifully with storm doors from Larson.