Ice Dam Prevention in the Twin Cities Area
An icicle-covered roof edge may look beautiful on a card or a calendar, but in reality a row of icicles forming at your roof's lower edge may be an indication that an ice dam is forming on your roof. Ice dams are a common problem for Minnesota homeowners in the winter, but they should never be ignored. And although you might be tempted to climb up on a ladder and chip away at the ice yourself, it's a situation best left to a professional. Not only is climbing on a ladder outside in the winter unsafe but you also run the risk of damaging your roof.

As the leading roofing contractor in the Twin Cities area, the professionals at Quarve Contracting have been helping homeowners protect their homes with quality roofing and other exterior home improvement materials since 1983. And in the winter, one of our main concerns is helping you to protect and preserve your roof. Your roof is your home's first line of defense against the elements, and keeping it in good condition is important, especially in the winter. Roof repairs in cold temperatures can be expensive, but you can take steps to prevent roof damage.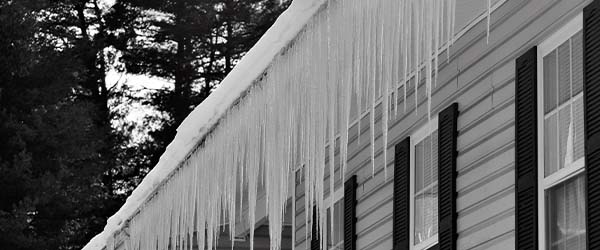 Ice Dam Prevention Is Important to Prevent Roof and Interior Home Damage
There are a variety of causes of ice dams, but the result is the same – snow melts on the warmer areas of the roof and then freezes at the cooler edge. If left in place, it forms a hard ice ridge which causes melting water to back up behind it and refreeze, rather than draining off the roof. This compounds the problem, because as additional water freezes, it increases the size of the dam. The trapped water, unable to drain off the roof edge, backs up under the roofing. Not only can this cause damage to your roof, but the melting snow can leak inside your home and cause water damage to insulation, walls and ceilings. It can also cause mold formation.
Don't Ignore Ice Dams on Your Twin Cities Area Home
Don't wait for warm spring weather to get rid of those ice dams for you. Like snow removal, ice dam prevention is best taken care of as soon as the ice accumulates. Having roof ice removed is much simpler and less expensive than winter roof repair and ceiling replacement. As roofing installation professionals, the ice dam experts at Quarve can help you find solutions to save your roof from ice dams.

So if you've got icicles forming on your roof edge, don't wait for water stains on your ceilings to tell you there's a problem. Contact Quarve today – we can help.